Biofinity® Toric (2x3pk)
By CooperVision
(Box of 6 lenses)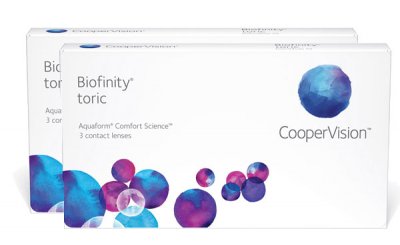 Price: $125.00
Biofinity Toric Contact Lenses (2 x 3 packs) are 30 day extended wear lenses. Focus clearly in all light.
---
Enter your Prescription
Only need contact lenses for one eye? No problem uncheck the box for the other eye.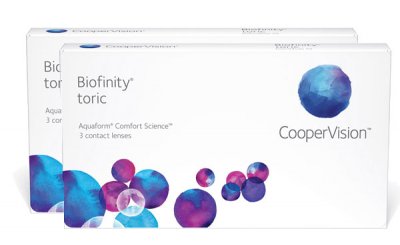 Contact Lens Details
High Oxygen for healthy whiter eyes. Comfort Guaranteed. Advanced material design and advanced toric lens design for excellent vision. Material : comfilicon A Optimised Toric Lens Geometry.
Smooth continuous surface and stable orientation of the contact lens. Supplied as: 2x 3 packs
Wear/Replacement: 30 Day continuous Wear/Monthly Replacement
Water content: 48%
Lens material: comfilicon A
Technology: Aquaform
Visibility tint: Light blue