FREQUENTLY ASKED QUESTIONS
TOP FAQs
---
How to insert and remove contact lenses
Learn how to insert and remove your contact lenses without damaging your eyes or your lenses.
Contact Lens Wear and Eye Health
Basic information for contact lens care and vision care.
A couple of good to know facts.
Can I claim from my health fund?
We are registered optometrists so you can claim your rebate from any Australian Health Fund.

An itemised tax invoice is sent with your contact lens order. All prescription contact lenses can be claimed for on your health fund - provided you have optical cover. Contact Lenses for cosmetic reasons are NOT usually covered by health funds.
Shipping/Postage
Postage and handling are charged on all contact lens orders. Charges are displayed on product pages. (Select your product, scroll down to see shipping charges)

Australia - priority processing and shipping 1 to 4 days
Australia - regular processing and shipping 2 to 10 days for
New Zealand - .
International Express Shipping -
We have no minimum quantity order for contact lenses.
Special orders
If you have special requirements please email us and we will endeavour to assist you.
Collecting your Order
If you want to pick up your lenses, select PICK UP under shipping options. You will be emailed when your order is ready for collection.
How long does it take to receive my order?
Orders are dispatched within 24 business hours with the exception of some toric and bifocal prescription lenses which we do not stock. If there is a delay with your order, you we be notified by email.
Please allow two to four days for delivery within Australia. International Orders can take between five to ten days. Should you require faster International shipping please request International Express Service
Returns
Contact Lenses may be returned for exchange or refund. All contact lenses returned must be unopened and undamaged or no refund will be given. Postage will NOT be refunded.
Contact Lenses considered defective should be returned as soon as possible in the original packaging, for evaluation and replacement. A copy of the original invoice must be returned with the goods considered defective.
Need a copy of your previous invoice?
It's easy, all you need to do it login to your account, then select the order you need the invoice for and press print. Alternatively you can send us an email to request a copy.
What if I forgot the email address & password I used for my last order?
Select "Forgot Password" from the help menu, enter your email address and your password will be emailed to you, or email us with your full name and address; We will update your profile with your new details and send you a confirmation when its done.
How do I change login details?
Select 'Customer Login' and enter your username and password, press enter then select 'Edit Profile' to edit your details and save. It's that easy!
How do I change email address and or contact information?
Select 'Change Email Address' from the help menu or select 'Customer Login'. Enter your username and password to login, then 'Edit Profile' and save.
If I can't find my lenses does it mean you do not stock the product?
No, please send us an email with your requirements. We will be happy to provide a quote for the lenses if available.
Find your prescription details on your contact lens box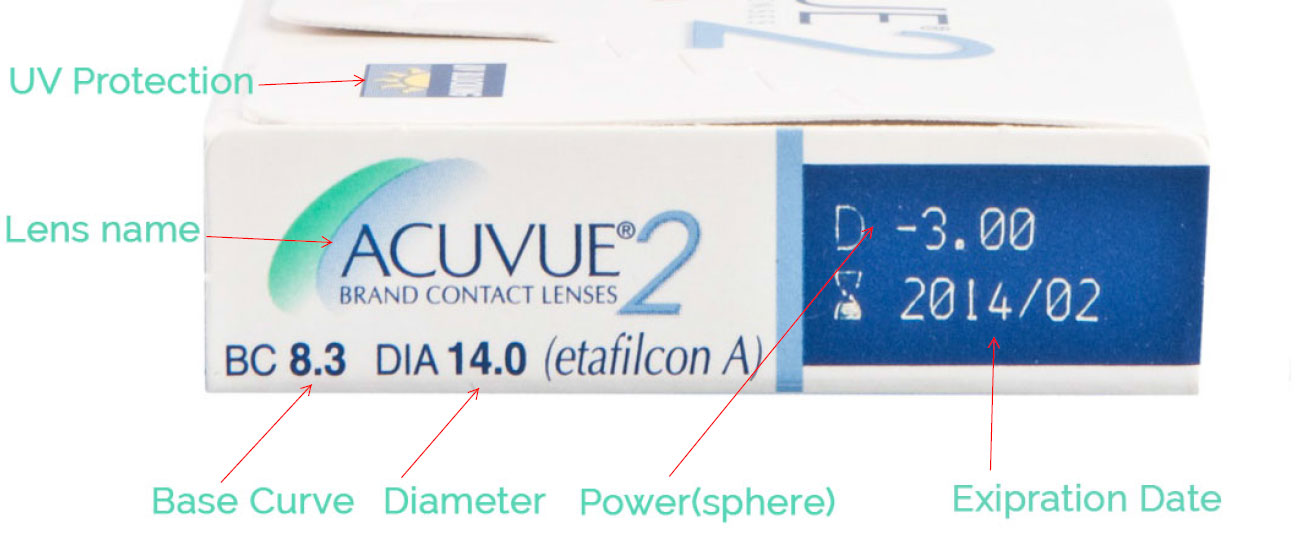 Your prescription can also be found on your contact lens box or blister packaging.
All Prices are quoted in Australian Dollars