Acuvue® Oasys Multifocal 6pk
By Johnson & Johnson
(Box of 6 lenses)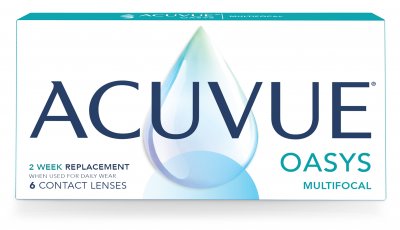 Price: $65.00
ACUVUE® OASYS MULTIFOCAL with PUPIL OPTIMIZED DESIGN. Contact lenses with unbeatable comfort.
---
Enter your Prescription
Only need contact lenses for one eye? No problem uncheck the box for the other eye.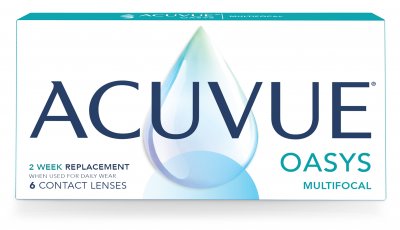 Contact Lens Details
ACUVUE® OASYS MULTIFOCAL contact lenses are designed to provide clear vision at all distances, helping you see near, far, and in-between. These contact lenses are moisture infused for exceptional comfort.
Acuvue Oasys for Presbyopia possess the following Johnson & Johnson technologies: Hydraclear Plus - Keeps eyes hydrated thanks to a multi-layer approach that combines wetting agents with bonded moisture and tear-stabilising technology to keep eyes hydrated. Zonal Aspheric Multifocal Design - Helps to promote clear and balanced vision, as well as smooth transitions across different viewing distances.
Wear/Replacement: 2 weekly daily wear lenses (and need cleansing each night and replacing every two weeks) or Extended wear lenses (for up to six nights and replaced every week)
Water content: 38%
Lens material: Senofilcon A
Visibility tint: UV protection