ACUVUEŽ Oasys 1-Day for Astigmatism 30pk
By Johnson & Johnson
(Box of 30 lenses)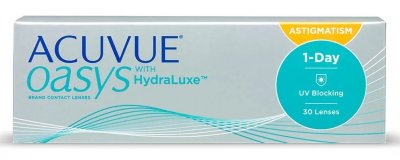 Price: $54.00
ACUVUE OASYS 1-DAY with HydraLuxe TECHNOLOGY for ASTIGMATISM provide clear, consistent, stable vision all day long; whether you are relaxing on the couch or playing sports.
---
Enter your Prescription
If you only require contact lenses for one eye uncheck the box for the other eye.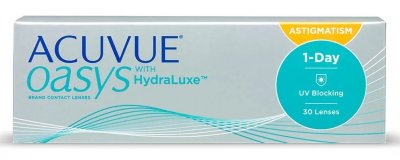 Contact Lens Details
ACUVUE OASYS 1-DAY for ASTIGMATISM is designed with HydraLuxe Technology to help make the feeling of tired eyes a thing of the past.
Experience all-day comfort, and optimum vision with HydraLuxe Technology. This contact lens has tear-like properties that work with your natural tear film, providing all-day comfort and performance.

The healthy way to wear contacts - fresh and hygienic, with a new pair of contact lenses everyday.

The highest level of UV protection available in a contact lens to protect your eyes from harmful UV rays.
Not all Axis and Cylinders (CYL) are available for all sphere powers. Check the list below to confirm which CYL and Axis are available.

for
MINUS power : 0.00 to -6.00
CYL: -0.75, -1.25, -1.75
Axis: 10 to 180 (10 degree steps)
If you need a CYL of -2.25
the only axis available are : 10, 20, 70, 80, 90, 100, 110, 160, 170, 180

Power: -6.50 to -9.00 (0.50 steps)
CYL: -0.75, -1.25, -1.75 -2.25 not available

PLUS Power: +0.25 to +4.00
CYL: -0.75, -1.25, -1.75 CYL of -2.25 is not available
Axis: 10, 20, 70, 80, 90, 100, 110, 160, 170, 180

Wear/Replacement: Daily Wear/1 day replacement
Water content: 58%
Lens Material: Etafilicon A
Technology: Lacreon
UV Protection: Yes
Visibility tint: Yes