ClaritiŪ 1 Day Multifocal 90pk
By CooperVision
(Box of 90 lenses)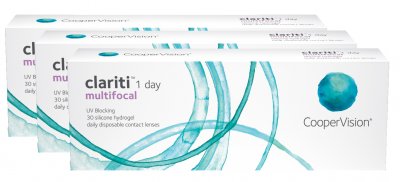 Price: $101.00
Clariti 1 day is a hydrophilic lens with optimal wettability.
---
Enter your Prescription
If you only require contact lenses for one eye uncheck the box for the other eye.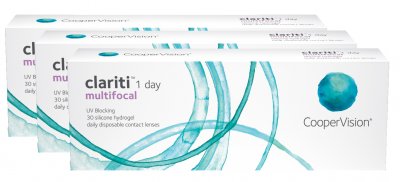 Contact Lens Details
The contact lens naturally attracts and binds water molecules, holding them tightly to the lens surface, providing continuous wettability throughout the wearing time. The result is a contact lens with high water content that provides excellent all-day comfort. Silicone Hydrogel allows more oxygen to pass through the lens to the cornea than hydrogel. The benefits are whiter eyes.
Silicone hydrogel material
Supports excellent all day comfort
UVA and UVB protection
Single use daily replacement contact lenses