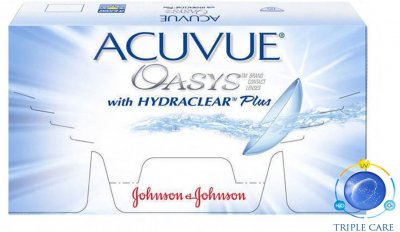 Our Price: $34.00
ACUVUE OASYS with HYDRACLEAR PLUS Contact Lenses provide ultra smooth feeling making your eyes more comfortable.
BUY 4 BOXES GET 2 FREE PAIRS.
Enter your Prescription
If you only require contact lenses for one eye uncheck the box for the other eye.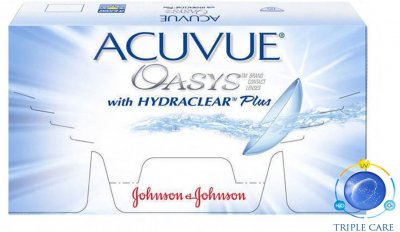 Contact Lens Details
ORDER 4 BOXES GET 2 FREE PAIRS
If your eyes feel uncomfortable after long hours in front of a computer, especially in air-conditioned or heated rooms, ACUVUE OASYS reusable contact lenses may be a great choice for you.
Features and Benefits
Contains HYDRACLEAR PLUS the next generation of proprietary technology that creates a more wettable, ultra smooth contact lens.
Helps soothe the discomfort from eyes feeling tired and dry.
Visibility tint so your lenses are easy to see and handle.
UVA and UVB block to help protect against harmful UV rays, blocking 96% of UV-A rays and 99% of UV-B rays.
Inside-Out Mark so you can insert your lenses correctly every time.
100% Satisfaction Guarantee.

Who should wear ACUVUE OASYS
People who experience contact lens dryness in dry challenging environments.
People who spend extended periods of time in front of a computer.
People whose eyes get tired from long days at work.
People who like to wear their lenses comfortably all day

Recommended Replacement: Daily wear - replace every two weeks
Material: Senofilcon A
Water Content: 38%
Tint: Blue handling tint, UV Protection 99% of UVB and approx. 96% of UVA