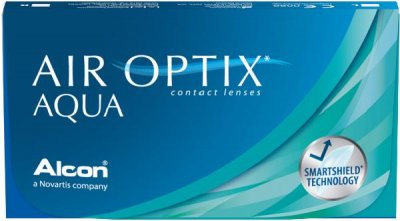 Our Price: $34.00
A Silicone Hydrogel Daily Wear contact lens that should be replaced monthly. 33% Water Content. Light Blue Handling Tint
Enter your Prescription
If you only require contact lenses for one eye uncheck the box for the other eye.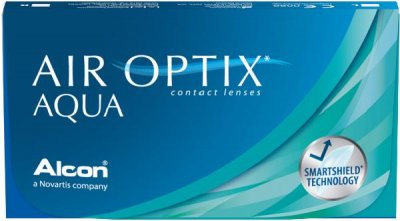 Contact Lens Details
Air Optix Aqua - a breathable contact lens to fit your lifestyle. Air Optix are intended for daily or flexible/extended wear (up to 6 nights while sleeping), as determined by your eye care professional. The lens is 33% water and has a light blue handling tint. Air Optix is a Silicone Hydrogel Contact Lens, it provides up to 5 times more oxygen than traditional hydrogel lenses.
The innovative TriComfort? Technology in AIR OPTIX? brand contact lenses helps lenses stay comfortable from breakfast to bedtime in three important ways: Breathability - Rich, nourishing oxygen flows continuously through AIR OPTIX? brand contact lenses, contributing to a healthy, natural feeling. Retains Moisture - The patented materials of AIR OPTIX? brand contact lenses help retain moisture, which helps prevent the lenses from drying out, so lenses feel comfortable all day long. Resists Deposits - AIR OPTIX? brand contact lenses feature an ultra-smooth surface designed to resist deposits - for comfortable wear all day long, every day - even for up to one month.